Cross splicing up to the length of 3400 mm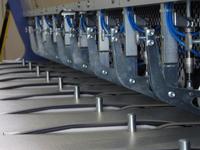 Cross splicing on the Fisher+Rückle veneer splicer up to the length of 3400 mm with automatic stacking of veneers. We use the equipment to the advantage for manufacture of large series and large-scale veneer splices.
Production principle: Veneers which had been straightened and applied with adhesive, are spliced to required formats. Both PVAC-based and urea-based adhesives may be used.
Veneer sheets are put into the unit crosswise, where adhesive applied to veneer edges is activated in one splicing cycle using heat and pressure to bind the veneer sheets together. Once required format width is achieved, finished veneer splice is automatically placed on the hydraulic table which automatically lowers with increasing quantity of formats produced.
Absolutely precise joint quality and high production rate is a great advantage of this machine, which favourably reflects in short delivery times of veneer splices to customers.